Jade Glover: A new calling and a difference made
Lots of people want to make a difference in the world, but Jade Glover is actually doing it. She came to her current position as a Community Health Worker after spending 10 years working in a hospital.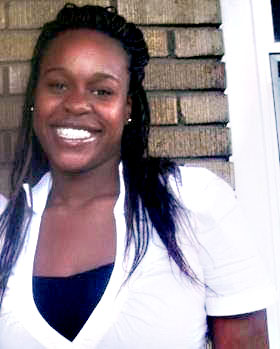 "I was about halfway through the nursing program when I realized I was on the wrong path for me," she says. When she started education to become a CHW, she saw the ways she would have a tangible effect on community health. "It was like a light bulb went off."
She graduated in May of this year and started as a CHW with Health Care Access Now in the Maternal and Child Health program in July, during the COVID-19 pandemic. 
Glover says the pandemic has resulted in an unexpected increased openness about needs and obstacles among the people she serves. With reduced social interaction, "It seems like there's more need for people to have an outlet and a way to accept help," she says.
"You're out there, you're thinking of me, and you care."
In order to uncover information about the barriers clients face, CHWs need to nurture rapport, something at which Glover excels. She tells the story of a woman who was vague in her answers at the initial point of contact, "but the more I followed her story and connected with her, the more she revealed," she says.
Glover interacts with clients from an altruistic place, "not because I want something from them," she says. This allows her to build trust and make a difference. Just recently she received a text from a client that warmed her heart. "It said she felt comforted knowing I was out there thinking of her, and that I cared."
Being part of a team helps her to provide the best service possible to clients. "I feel like I'm being led and being lifted. Everyone uplifts each other [on the HCAN Maternal and Child program CHW team]."
As she moves forward in her career, Glover wants to dive more into mental health. "We already do work around postpartum depression and neurological imbalances. I want to make links and help people who are struggling."
Witnessing relief
The part of her job that Glover most cherishes is "seeing the relief on [clients'] faces after" obstacles have been removed from their lives. For example, she says she might encounter an anxious pregnant mother who is struggling to pay for utilities. When Glover connects her with the appropriate resources and removes that burden, it brings about significant—and visible—life change.
She also appreciates the opportunity to share education with pregnant and new mothers. "We might think we know all there is to know, but new information is always coming out." For example, she provides facts about Sudden Infant Death Syndrome (SIDS) and the ABCs of Safe Sleep (Alone Back Crib). Seeing the mothers take the information into account and make changes to their health regimen warms her heart.
The way she imparts information reveals her philosophy about being a CHW: "It's not a job; [the clients are] people. And you may be a set of circumstances away from being in the same place they are. It's about talking and listening. We're people before we're health care professionals. I want to open doors and open eyes."