Boundaries as self-care: How caregivers (like CHWs) avoid burnout
Community Health Workers (CHWs) see people in crisis every day. Program participants might not have enough to eat or a safe place to live. They might be suffering from a chronic illness.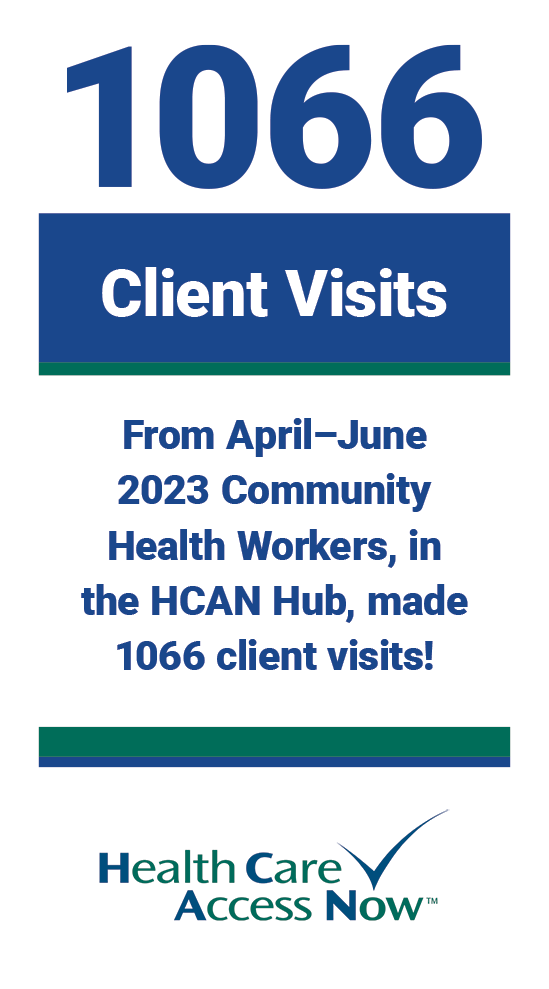 It's rewarding for CHWs to watch program participants make positive changes and overcome barriers. Those changes can have a profound effect on community members' long-term health and wellness.
While progress is always the goal, CHWs can't control all the factors leading to program participants' circumstances. Denise Harris, Director of Care Coordination Services for Health Care Access Now (HCAN) says, "That's why you need to set boundaries. Self-awareness is the first step, followed by knowing how far you can go to help someone."
Harris gives the example of a CHW working with a program participant experiencing domestic violence. "You can direct them to the appropriate resources, but it's up to them to act on it." If the program participant doesn't or can't take steps to get out of the situation, that can be difficult for the CHW.
"It's part of the work that not every participant is going to succeed," Harris says. To remain effective as a CHW, she recommends "balance[ing] out successes against the situations you can't control." Focusing on the positive allows CHWs to recognize the good they're doing in the community.
Change takes time
CHWs deal with situations that require program participants to make their own life changes, but they also face the reality of limited resources.
Here's an example. Harris says that CHWs have an average workload of 30-35 program participants. Typically, about a third of those participants are experiencing homelessness. The lack of suitable affordable housing in conjunction with the demand for resources leads to long waiting lists for shelters and transitional/affordable housing. She says, "It can take years to help someone resolve the barriers."
While it's natural to wish the timeline could be accelerated, CHWs must work within the system and recognize that lasting change takes time. If the program participant understands that CHWs provide change over time rather than a quick fix, it sets the relationship up appropriately.
Support and encouragement
Harris says, "Empathetic engagement with people involved in trauma can trigger CHWs"—particularly if the CHWs have personally experienced the same trauma. Often, CHWs come from the communities they serve and have been through similar situations to those the program participants face.
Supportive supervisors can encourage CHWs and act as a sounding board. "It's not a typical managerial situation. You need active listening skills and to be innovative and creative," Harris says. Appropriate training also helps diminish the effects of work-related stress that can lead to burnout.
Harris emphasizes the importance of "providing a safe working environment," which allows for "adequate space, natural lighting, air conditioning in the summertime," and a way for CHWs to personalize their spaces.
At HCAN, CHWs are permitted flexibility. For example, "They can work remotely or have meetings with participants in a park or at a community gathering."
"Some CHWs have been [working at their jobs] for 10 to 20 years. Those are the ones who have learned how to set boundaries and count their successes. You rely on peers to help support and encourage you," Harris says.
Self-care through boundary setting safeguards CHWs against burnout. It's a good strategy for anyone who cares for others to use. As Harris says, "It's so important to protect yourself, so you can continue to give to others."
Self-Care Tips for Caregivers
Denise Harris, Director of Care Coordination Services for Health Care Access Now (HCAN), offers the following tips for caregivers' self-care:
Expression through art: During the most recent Community Health Worker (CHW) Day celebration, CHWs participated in a painting party, which allowed them to express their feelings, which Harris said can be very cathartic.
Live music. Music can be comforting and relaxing even when you're listening to a recording, of course, but going to live music provides a special kind of stress relief.
Forest bathing. Connect with nature in the simplest way possible: by sitting and taking in greenery.
Gardening. Watch something grow and contribute to the beauty and health of your immediate environment. And absorb some Vitamin D (which regulates cortisol, thus reducing stress) while you're at it!
Time off. While it's nice to take vacation for a week or two, shortening your work week occasionally by taking long weekends can also be rejuvenating.
Take a real lunch. Go to the park, sit in your car and listen to music, go on a walk. Getting out of your work environment for a little while allows you to go back refreshed.
Love your pets. Relationships with animals can be stress-relieving. And if you don't have an animal at home, you can volunteer. For example, Cincinnati Animal CARE encourages volunteers to take dogs on day trips for a break from the shelter.
Look forward to something. To prevent yourself from getting into a rut, make sure to plan something that you can positively anticipate. It could be as small as seeing a friend later in the week.