Dominique Johnson: Relating to clients and making a difference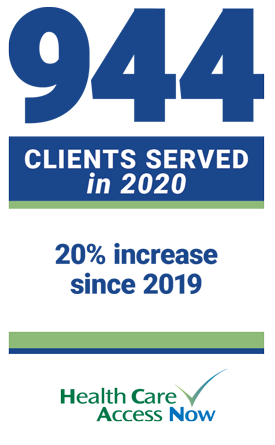 Dominique Johnson spent 12 years working as a nurse before she trained as a Community Health Worker for Health Care Access Now.
"When you're a nurse, you're more hands-on [during health issues], but as a Community Health Worker, you can see the problems on the back end," she says. That allows her to remedy the source of the challenges her clients face, which she says ultimately can make a big impact on their lives.
Johnson has worked as part of the Maternal and Child Health Care team at HCAN for nearly a year. Having team support is crucial to success: "We help each other out," both within her team and across teams. For example, because she is a nurse, she's able to give insight into some of the issues that other CHWs see their clients facing as adults.
Grassroots promotion and community engagement
As a dedicated advocate for vulnerable community members, Johnson "helps people strive for satisfaction and to be heard." She says it's important to impart information wherever she goes. "Some people are blind to what's going on."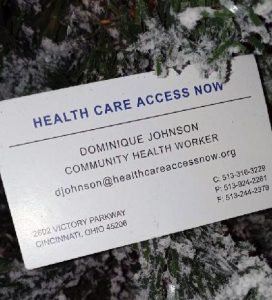 Johnson says that community awareness of HCAN is growing, but she gives out business cards to pregnant women wherever she goes, too. "Some know about Community Health Workers," she says, but a lot of them aren't aware that there is help available to them. She hopes this kind of grassroots promotion helps increase visibility.
HCAN is involved with the community beyond providing its services to clients. Johnson believes that the volunteer work CHWs and other HCAN employees do at organizations, such as the Freestore Foodbank, helps strengthen community bonds.
Helping clients on their journeys
Johnson has learned that "you cannot judge a person through their situation." One of the toughest parts of her job is breaking down the metaphorical walls that her clients may have built to protect themselves. "You have to adjust to different personalities. Not everyone thinks the same way," she says.
Her strategy in these situations is to "keep quiet and let folks talk. Let them know they have the floor and can vent if they need to." That makes her clients feel more comfortable, which builds the trust necessary for good relationships – which in turns leads to Johnson's greater ability to help them.
She loves her job. "I love being able to get [clients] comfortable and help them on their journey. And those babies! They are just so adorable."
She talks about one client that she worked with as part of the First Year of Life program, which supports mothers both during and after their pregnancies. She built a bond with her and was able to help the client and her baby achieve healthy outcomes. Now, the client is pregnant again. Johnson laughs, "It makes my job a little easier because the rapport is there," and she's pleased that this situation will allow her to see the first child continue to grow and develop.
"Community Health Workers make such a difference," she says, because the relationships they build with their clients and in the community are so needed.
Sign up today! —> Connect with a Community Health Worker. Call 513-707-5697 or complete the online application form.