HCAN celebrates Community Health Worker Certification Program grads
Sometimes you have an experience in life that changes everything. Something touches you and your perspective shifts forever. Even if we anticipate that an experience will be meaningful we never really know how it will affect us. Who will we be at the end of it all? Anyone who has had a positive shift in perspective knows it can be a great gift—often helping us to feel better connected to our neighbors, the larger community or even the world. 
Several of the students from the recent graduating class of the HCAN CHW Certification Program reported that they experienced such a shift in their perception of themselves. They reported that the program amplified their already innate desire to help. And the bigger desire to help made them feel they could actually make a difference in the lives of others.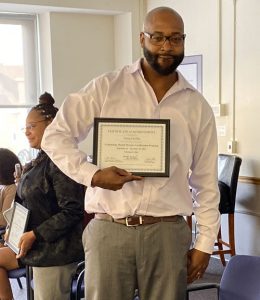 Terry Griffin, pictured here, says that although he already had experience working in the mental health field the certification program helped improve his skills, which "made me more excited to make a difference."
On Friday, Dec. 20, 2019 HCAN celebrated the five students who recently completed the CHW Certification Program. The graduation ceremony honored not only their completion but their dedication to grow and become better leaders, and therefore better servants.
During the ceremony graduates were presented with certificates and given a chance to say a few words. Dr. Bob Collins (Trihealth), Chair of the HCAN Board of Directors attended the celebration and said, "It was clear to me that all of the students had a strong connection to each other. They all had obviously been through something great together."
After the certificate presentation and testimonials people lingered to enjoy refreshments, cake and fellowship.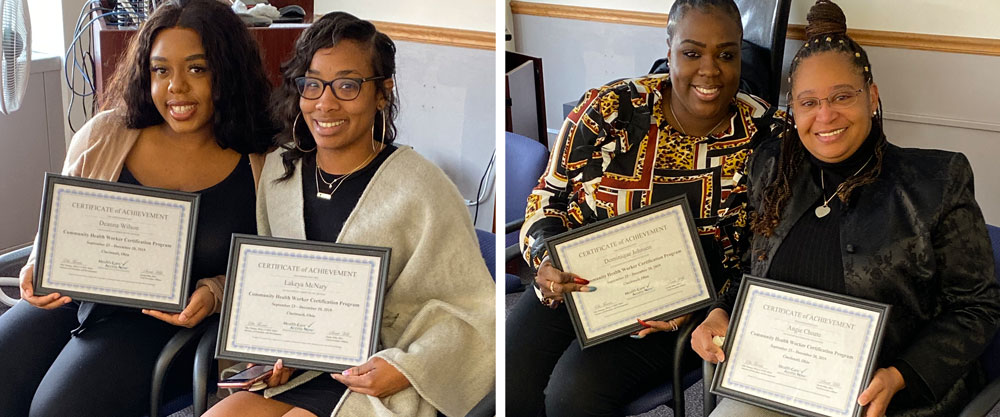 The role of a Community Health Worker
A Community Health Worker helps individuals navigate personal challenges so they can focus more completely on their health. A CHW needs to be able to keep an open mind, understand their client and what they've been through so they can meet them where they are. Everyone is unique in their life experience and what solutions they need.
The certification program teaches general CHW skills, such as personal development, professional boundaries and leadership skills, just to name a few. But more importantly, we teach how to build a relationship with each individual client. So their plan and care can be tailored to their specific needs.
How can I become a Community Health Worker?
The new class for the HCAN CHW Certification Program is now underway—it began just this week. The next class, which will offer day and evening time slots, begins May 4, 2020. We offer several classes throughout the year so keep an eye on the website for future dates. Be sure to sign up for the e-newsletter, Community Connection, so we can send you enrollment notifications.