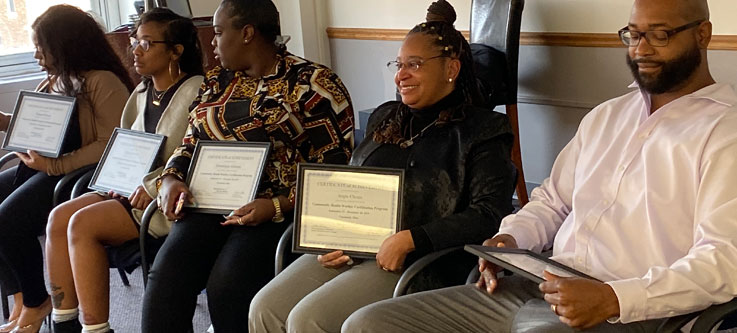 During the COVID-19 pandemic, classes will be in a hybrid, online and face-to-face format.
Community Health Worker Certification Program: Developing Community Health Workers who excel in coordinating the care of those most at risk for poor health.
2020 Program Dates
HCAN offers programs throughout the year. The 2020 program dates are: 
January 6 – March 27, 2020 – Days

May 5 – August 11, 2020 – Evenings

August 31-November 20, 2020 – Days
Program Application:  Online Application – Community Health Worker Certification Program
How do you become a Certified Community Health Worker?
Health Care Access Now delivers an approved training program and is a leader in developing Community Health Workers in Cincinnati. Our 12 and 14 week training programs will give you the skills you need to provide community based Care Coordination to those most at risk for poor health outcomes. View or download the Program Brochure.
What is Community Based Care Coordination?
Training and Certification
The Community Health Worker Certification Program includes 100 hours of classroom training that addresses the core competencies in health, knowledge of social service resources, communication skills, advocacy, CPR certification, lifespan development and basic community health worker skills. The in-class portion of the program is offered in separate day and evening sessions. The daytime session will be held on consecutive Mondays and Fridays, 9 a.m.–4 p.m. at our 4968 Glenway Avenue location. The evening session will be held on consecutive Tuesdays and Thursdays, 5-9 p.m. at our 2602 Victory Parkway location. Full attendance is required for all in-class coursework. 
Students must also complete 130 hours of a community-based practicum as required by the Ohio Board of Nursing for state certification. Health Care Access Now assists students to identify and complete the required community-based practicum with local hospitals, health care providers and nonprofit organizations.
Upon completion of the classroom training and community-based practicum, students are qualified to apply to the Ohio Board of Nursing for a certificate to practice as a Certified Community Health Worker. 
To become certified in Ohio you must attend an approved training program, submit an online application to Ohio Board of Nursing, and meet all requirements to obtain a certificate.
Requirements
A resident of Ohio

$250 application fee

Completed physical and updated immunization, including TB testing

A copy of a high school diploma or GED documentation

A copy of the applicant's government-issued photo identification to verify 18 years of age

A 75 percent competency level in each skill evaluation

Acceptable BCI (civilian) and FBI (federal) criminal records check, before participating in the community-based practicum (not included in the cost of tuition)
Program Policy
See Program Administrator
Fees
Application fee of $250. Program tuition is $3,100 and covers all textbooks, materials and professional networking.
Tuition Assistance
If you are currently employed in the health care industry, please check with your employer to see if there is any assistance with some or all the cost of tuition.
Those who do not receive tuition assistance from their employer may be eligible for Workforce Innovation and Opportunity Act (WIOA) funds through the Ohio Department of Jobs and Family Services. Download the tuition assistance application here. Fax or email the completed application to (513) 245-4347 or info@healthcareaccessnow.org. You must also complete the online program application.
Ohioans who meet these criteria may qualify for the WIOA funds:
Adults over the age of 18, who are eligible to work in the United States of America and, if applicable, registered for Selective Service.

Dislocated Workers who have lost their job through no fault of their own.

Youth aged 14-24 with special conditions including low-income, pregnant or a parent.
Scholarships
There are limited scholarships available for the Community Health Worker Certification Program.
What is a Community Health Worker?
A Community Health Worker (CHW) serves as a liaison between the medical and social services entities and the community residents. They are a frontline Public Health worker who understands the community needs where the Community Health Worker usually resides. Community Health Workers advocate for change, improve access to the quality of care, and cultural competency of services delivered.
A community health worker also builds individual and community capacity by increasing health knowledge and self-sufficiency through a range of activities such as outreach, education, informal counseling, social support and advocacy.
Although responsibilities vary, here are examples of potential tasks completed by community health workers:
Assist in finding and establishing a relationship with medical and behavioral health services.

Act as a liaison between various providers and their patients.

Help navigate the health insurance system.

Find basic resources for patients.

Provide support during pregnancy and patients with chronic disease.
Questions?
To learn more about the Community Health Worker Certification Program please contact Health Care Access Now at 513-707-5696  or info@healthcareaccessnow.org.