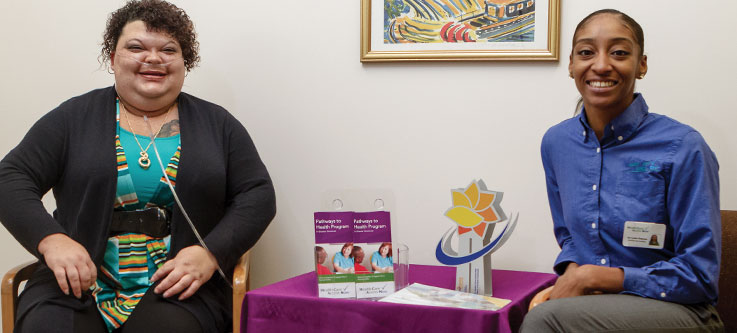 Do you have the skills for a career as a community health worker?
Are you looking for more than just a job? What about a CAREER in one of the fastest growing industries in the region? What about a non-clinical career that allows you to help consumers served at some of the regional health systems, health plans and social service agencies to improve their health and quality of life?
What about a career as a community health worker? In 10 short weeks of classroom/online training and a community-based practicum, you can have a new profession, providing essential health information and linking clients to valuable community resources to improve their health and wellbeing.
A Career as A Community Health Worker
According to Glassdoor, the average base salary for community health workers is $33,520 annually. Depending on experience and years in the industry, the wages can rise to more than $50,000 annually.
Although the responsibilities vary by company, here are a few examples of the tasks completed by community health workers:
Act as a liaison between the health care provider and their patients
Assist consumers in finding a regular doctor and navigating the health care system
Educate and direct patients to community-based medical and behavioral health services
Support patients in finding basic resources so that they can focus on their health care needs and managing chronic disease conditions
Working with pregnant women to provide support and assistance after delivery
Provide one-on-one coaching and support for consumers who have low literacy
The Ohio Board of Nursing must certify community health workers. Fortunately for you, Health Care Access Now offers a 10-week Community Health Care Worker Training Program. Health Care Access Now is a leader in developing community health workers in Cincinnati who excel in coordinating the care of those most at-risk for poor health.
Training and Certification
The Community Health Worker Training Program includes 100 hours of classroom training that addresses the core competencies in health, knowledge of social service resources, communication skills, advocacy, CPR certification, lifespan development and basic community health worker skills. The in-class portion of the program will span ten weeks and be held twice a week for 8 hours per day (9 a.m. – 5:30 p.m.) at HCAN's offices in Walnut Hills. Full attendance is required for all in-class coursework.
Students must also complete 130 hours of a community-based practicum as required by the Ohio Board of Nursing for state certification. Health Care Access Now assists students to identify and complete the required community-based practicum with local hospitals, health care providers and nonprofit organizations.
Upon completion of the classroom training and community-based practicum, students are qualified to apply to the Ohio Board of Nursing for a certificate to practice as a Certified Community Health Worker.
Program Policy
See Program Administrator
Requirements
A resident of Ohio

$250 dollar is required with completed application

Completed physical and updated immunization, including TB testing
A copy of a high school diploma or GED documentation
A copy of the applicant's government-issued photo identification to verify 18 years of age
A 75 percent competency level in each skill evaluation
Acceptable BCI (civilian) and FBI (federal) criminal records check before participating in the community-based practicum – Not included in the cost of tuition
Class Schedule
Full schedule forth coming
Fees
Full program tuition is $2,850 (as of January 2019) that covers textbooks and access to the community health worker resource website. If you are currently employed in the health care industry, please check with your employer to see if there is any assistance with some or all the cost of tuition.
Those who do not receive tuition assistance from their employer may be eligible for Workforce Innovation and Opportunity Act (WIOA) funds through the Ohio Department of Jobs and Family Services to cover the cost of the training and certification programs.
Ohioans who meet these criteria may qualify for the WIOA funds:
Adults over the age of 18, who are eligible to work in the United States of America and, if applicable, registered for Selective Service.
Dislocated Workers who have lost their job through no fault of their own.
Youth aged 14-24 with special conditions including low-income, pregnant or a parent.
Scholarships
There are scholarships available for the Community Health Worker Training Program. Please download the application here.
How To Apply
Apply for the Community Health Worker Training Program here.
To learn more about the Community Health Worker Training Program or to register, please contact Ella Thomas at 513-245-4348 or ethomas@healthcareaccessnow.org. Ella will also be able to provide documents required by employer payment and reimbursement programs.
About Health Care Access Now
The vision of Health Care Access Now (HCAN) is to build partnerships across systems of care to improve access to care and improve health outcomes for vulnerable populations in SW Ohio.
HCAN was started by community leaders in 2009 to improve the overall health status of Greater Cincinnati's most vulnerable residents – those who are likely to have poor health outcomes because they do not have consistent medical care; access to behavioral health care and specialty care; lack support in successfully managing chronic diseases.
HCAN's mission is to serve consumers through community outreach and work with physicians and other providers in resolving barriers to care.