Sarah Mills: HCAN CEO and designer of change (Part 2)
Sarah Mills, CEO of Health Care Access Now (HCAN), has done the math. In order to eliminate pregnancy health disparities for Black mothers in Hamilton County, there need to be at least 100 Community Health Workers (CHWs) in the field, she says.
HCAN is the Pathways Community HUB (Hub) in the Cincinnati area. The Hub network of partner agencies uses a proven framework to eliminate healthcare barriers, which include transportation, housing, and food insecurity, among vulnerable populations. Right now, the Cincinnati area Hub has 29 CHWs.
Through its Maternal & Child Health Care Coordination Program, HCAN works with pregnant mothers on Medicaid; broadening its scope to bring all of those mothers to health parity would require "a few hundred CHWs." Its Adult Health Care Coordination Program focuses on chronic disease self-management. Eradicating health disparities among that population drives up the total needed CHWs to a number that Mills says is difficult to project.
But, "I believe in the efficacy of the model," she says. "We can measure the results and keep scaling up." Every added partner agency, every additional CHW makes a measurable difference in community health.
"To have someone walk with you in an experience is invaluable," Mills says of the CHWs. "The time and attention they give to clients helps them overcome the barriers. They deal in hope and help [clients] see a path forward. That's the secret in the sauce."
One of her most important mandates is to protect the time that CHWs are able to spend with clients. Mills says that the emphasis on efficiency in health care systems can prevent problems from being solved. "We need someone to take the time to dig in and find out what's really needed. CHWs doing that kind of work allows the rest of the [health care] system to operate super-efficiently."
Women of color and fair wages
There is both a racial and a gender wage gap in the United States, with Black women "typically paid just 63 cents for every dollar paid to white non-Hispanic men." In the Cincinnati community, CHWs are "predominantly women and predominantly women of color," Mills says. She believes that CHWs' contributions should be valued and is determined to compensate them fairly.
Hub data demonstrates that CHWs reduce health disparities, help relieve the burden on emergency health services, and provide much needed support for vulnerable communities by removing obstacles to good health outcomes.
This data justifies directing funds to CHWs' wages. And those funds can give women who come from the communities they serve the opportunity to make a difference and a living wage as CHWs.
Pandemic perseverance
Mills says she is very proud of the HCAN team for having been able to continue doing their work during the COVID-19 pandemic. "There were times when our partner agencies' CHWs have had to be furloughed out for illness and family concerns, but we have stayed up and running – even increasing our service delivery by 20% from last year."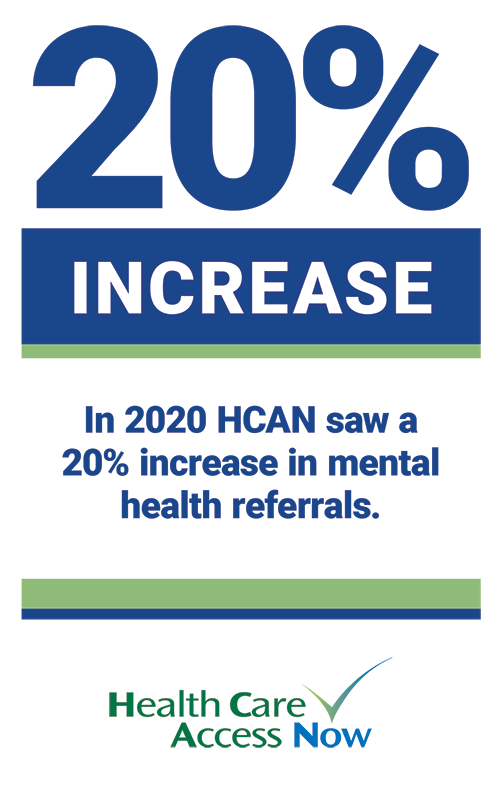 That jump in service delivery has happened over the last two years: "But I didn't expect that to continue in the pandemic! We didn't stop! We're continuing to improve our work, getting grants to scale up our operations, and building on what we have in spite of unexpected challenges."
The HCAN staff can be credited for resilience during this time. "We've provided flexible working space; our CHWs have worked out solutions with their supervisors. We meet people where they are, even during a pandemic."
Mills wants to design a fair and flexible system with data that demonstrates worker effectiveness, an organization persevering through adversity to meet the needs of underserved communities, and a world no longer burdened with inequality in health care. "To address systemic barriers, we need to have as many CHWs working in the community as possible. Their presence in the community can drive that change."
If you missed Part 1 of our interview series with HCAN CEO Sarah Mills, go here to learn more about her background and leadership philosophy.