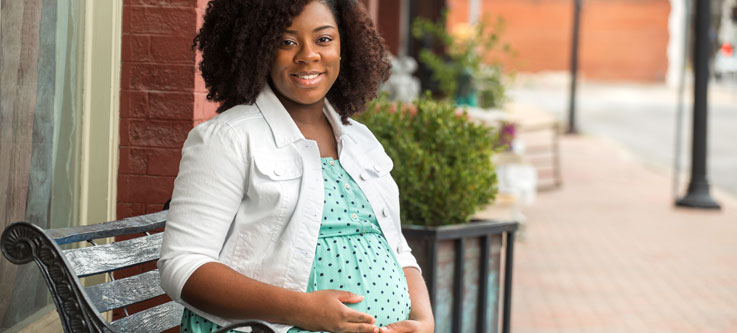 HCAN's goal is to ensure that every woman who enrolls with our network of community providers will have a healthy pregnancy, delivery and continues access to ongoing medical care. The Pregnancy Care Coordination service enrolls women referred by Medicaid health plans, physicians, United Way 211 and self-referrals. Each woman is connected with a Community Care Coordinator (Community Health Worker) who provides important education about breastfeeding, safe sleep and assists with smoking cessation resources. Referrals for follow-up and treatment of maternal depression are also addressed. Our goal is to connect with women during their first trimester to be sure they receive as much prenatal care as possible. Our particular focus is to connect with as many African American women as possible to prevent infant deaths during the first year of life.
Recent data about 2017 birth outcomes in Hamilton County shows that deaths of African American babies are THREE TIMES greater than non-African American babies. Many of these deaths occurred because women delayed prenatal care or had a preterm birth (before 32 weeks). For more information, visit https://www.cradlecincinnati.org/our-work/facts-and-data/
Community Care Coordinators will stay connected with moms, their baby AND other children in the household if they continue health coverage with Ohio Medicaid Plans. Care Coordinators focus on resources needed to keep safe housing, healthy food, and important medical, dental and behavioral health services. Well child checks and immunizations are important during the early years for all children. Care Coordinators also want to make sure that mom has more than a postpartum visit. Regular medical care for routine check-ups is key to mom's health and well-being.
Maternal and Child Health Care Coordination services are partially funded by the Ohio Commission on Minority Health, Cradle Cincinnati, and the Christ Church Cathedral Community Fund. HCAN maintains contracts with all of the Ohio Medicaid Managed Care Plans. HCAN partners with local agencies in Butler and Hamilton counties to ensure that services are not duplicated and agencies can work together by sharing information and improving quality of care.
Questions or to sign up, call us at (513) 707-5697.
The Maternal & Child Health Care Coordination is supported in part by the Ohio Commission on Minority Health.