PRESS RELEASE: New HCAN program designed to prevent criminal recidivism
FOR IMMEDIATE RELEASE
Health Care Access Now (HCAN), in collaboration with the All-In Cincinnati Equity Coalition, has developed a program that educates and removes barriers for individuals who have entered the criminal justice system.
HCAN's dedicated Community Health Workers (CHWs) serve clients referred by Judge Janaya Trotter Bratton and Judge Wende C. Cross. Judges Bratton and Cross identify low-risk offenders who need help attaining stability.
The program follows the Pathways Community HUB model, an evidence-based system to identify and break down typical barriers to good health outcomes. Most clients who come to HCAN via referral from the justice system suffer from similar issues—such as homelessness or lack of stable employment—as those who HCAN serve in vulnerable communities.
HCAN trains and coordinates CHWs, as well as acting as director of the regional HUB. Although this new program identifies clients in a different way, the desired outcome of better health and greater self-sufficiency remains the same.
---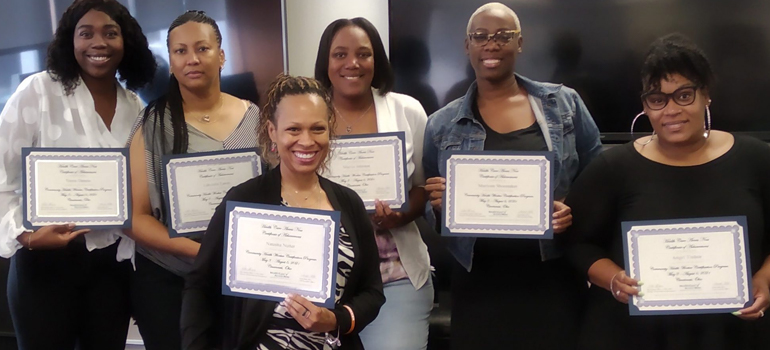 ---
Health Care Access Now (HCAN) CEO Sarah Mills and All-In Cincinnati Equity Coalition Director Denisha Porter collaborated to launch a program in which judges refer low-risk offenders to HCAN's Care Coordination Program for intervention by Community Health Workers (CHWs). The program was made possible by grants from bi3 and Interact for Health.
The Honorable Janaya Trotter Bratton (Municipal Court Judge, Hamilton County) and the Honorable Wende C. Cross (Magistrate, Court of Common Pleas, Juvenile Division, Hamilton County) identify offenders who need help attaining stability. Judges Bratton and Cross see how homelessness, mental health, and employment issues can play a role in entry to the criminal justice system. By allowing the referred offenders to access CHWs' assistance, the goal is to decrease recidivism and increase offenders' health and quality of life.
"People without access to adequate food resources or with health or family issues, people who are experiencing homelessness: These are examples of the clients referred to HCAN by the judicial system," says Denise Harris, Director, Care Coordination Services, HCAN. "So far, the program has been very successful, with no recidivism among any clients served."
Currently there are approximately 15 people enrolled in this process, which has been in the pilot phase since September 2021. CHWs go to the Hamilton County courthouse to meet with offenders and explain the process, ensuring that the potential clients know their participation in the program is neither required nor punitive. After developing a plan, CHWs provide education and connection to resources to the client to help remove obstacles to stability. Examples of help provided include GED and health insurance attainment and job and housing procurement.
"We're excited to be able to provide support and services without penalties. There's no intimidation. We just help them with their challenges," says Daphanie Blackwell, Adult Team Supervisor, HCAN, who oversees most of the cases associated with this program. "We believe that with good health and increased self-sufficiency, these individuals' risk of recidivism will decrease tremendously."
Although the initiative is still in early stages of development, HCAN staff and leadership anticipate that its initial successes demonstrate its efficacy. They hope to expand the program to help offenders get back on track and attain stability without resorting to criminal activity.