PRESS RELEASE: HCAN awarded $15,000 for Certification Program
FOR IMMEDIATE RELEASE
Health Care Access Now (HCAN) has received a grant of $15,000 from the PNC Foundation to be used for its Community Health Worker (CHW) Certification Program.
HCAN trains CHWs to work in the field, providing resources and connections to pregnant, maternal, pediatric, and adult clients with chronic conditions to improve health outcomes.
Those particularly suited to working as CHWs come from the communities HCAN serves. This grant will be instrumental in helping identify and train individuals who will further HCAN's mission of achieving health equity and erasing barriers to good health outcomes.
HCAN trains and coordinates CHWs, as well as acting as director of the regional Pathways Community HUB (HUB), which uses an evidence-based model for CHWs to identify and break down typical barriers to good health outcomes.
---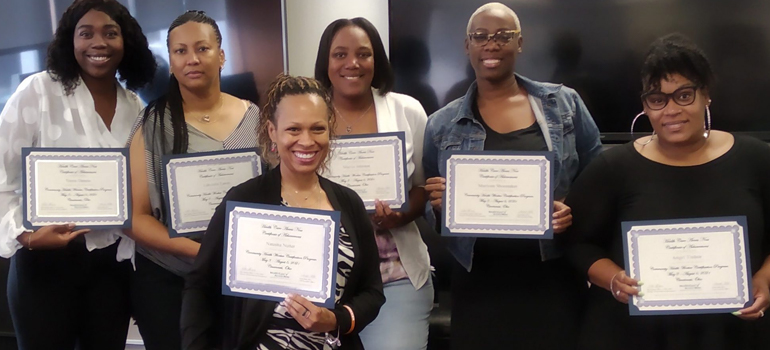 ---
PNC Foundation has granted $15,000 to Health Care Access Now (HCAN) to be used to strengthen and expand its Community Health Worker (CHW) Certification Training Program.
The CHW Certification Program prepares a specialized work force to improve health outcomes and reduce health care inequality for the most marginalized members of the Cincinnati community. The program, launched in 2018, has trained 97 CHWs to date and is approved by the Ohio Board of Nursing.
CHWs use the Pathways Community HUB model (HUB) in their field work to identify and remove obstacles to quality health care by providing education and connection to resources. HCAN is the director of the regional HUB. It's essential that CHWs create rapport with the clients they serve to help resolve the issues that keep them from attaining good health outcomes.
"The people most suited to work as CHWs are those who come from the communities they serve because shared experience and knowledge can help build trust," says Sarah Mills, CEO, HCAN. "This grant can help us achieve our goal to create strong relationships between client and CHW."
HCAN estimates the grant money will allow an additional four students to enroll in the CHW Training Certification program, which means the grant will change the lives of hundreds of low-income individuals and families in the Cincinnati area. CHWs serve an average of 35 clients during their first year of employment, which increases to an average of 50 clients per year in subsequent years. So, over the next two years, more than 300 HCAN clients will benefit from care coordination services they may not otherwise have received, thanks to the grant money.
"These funds allow us to change people's lives—not just those who go through the training certification process, but also those that they will help over the years," says Mills.
HCAN is grateful to have received this grant to further impact the community it serves. Its leadership hopes that this money will result in a greater ability to achieve health equity in the greater Cincinnati area.