Multigenerational caregiving takes its toll 
It's difficult enough to care for young children.
It's difficult enough to care for an elderly parent.
What about if you have to care for both, at the same time?
For some people, "sandwich caregiving," as it has been termed, is a way of life.
As an aging adult's ability to perform everyday activities erodes, relatives often find themselves picking up the slack. Those with large families can work together to create a caregiving safety net with everyone working together to cover the necessities. But, if your family is smaller, of if your aging relative's needs are increasing, it's all too easy to become overwhelmed.
Add childcare to your responsibilities, and suddenly every day may feel like an insurmountable burden, physically, mentally, emotionally, and financially.
No time (or energy) to care for yourself
If you're spending a lot of your time cooking for, shopping for, and cleaning up after others—particularly if they have very different needs from one another—it can become difficult to take care of yourself. You may find that you are "neglecting [your] own health care appointments and eating a poor-quality diet…", for example.
Caregivers are more likely to experience sleep disturbance and depressive symptoms, too. All of this is linked to the intensity of caregiving. Caregivers for someone with dementia, for example, which requires greater vigilance and which can be less predictable, "are more likely to experience substantial physical difficulty compared to non-dementia caregivers."
The pressures and responsibility that accompany any kind of caregiving take their toll. While caregiving can be rewarding, sometimes resulting in a closer relationship between care-giver and -receiver, it can also cause stress hormone spikes and dips in immune health.
The costs of caregiving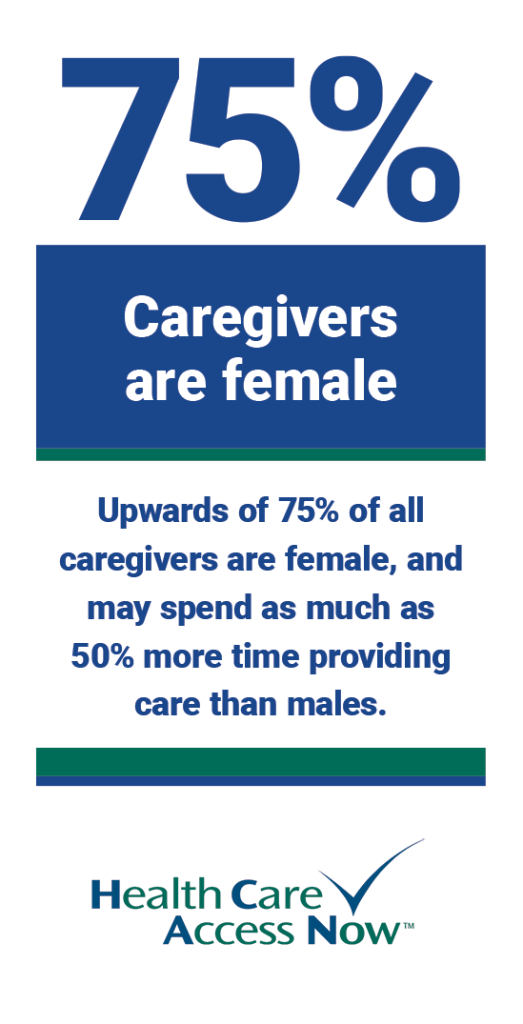 "Upwards of 75% of all caregivers are female, and may spend as much as 50% more time providing care than males," according to data compiled on the Family Caregiver Alliance website. The same site reports that "[m]ore than half of African-American caregivers find themselves 'sandwiched' between caring for an older person and a younger person under age 18, or caring for more than one older person."
Two-thirds of those Black caregivers work either part- or full-time. All told, "approximately half of all caregivers to older adults [are] employed either part-or full-time."
Caregiving takes time and can be unpredictable. As a caregiver, you may be responsible for transport to medical appointments. You might be on-call for emergencies. These factors can limit a caregiver's employment options.
Employers may not understand a caregiver's need for flexibility. You may have to take a lot of time off. This can put employment in jeopardy. It may force you to decrease from full-time to part-time work or to put your ambitions on hold and take lower-paying jobs with less responsibility.
Caregiving can limit the amount of money coming in to a household—in addition to increasing the amount of money going out to pay for things like prescriptions, gas, food, home health aides, and much more.
While providing care to an elderly loved one can be a deeply rewarding experience—and so can being a parent!—it also places stressors on those responsible for the care.
Although there is no silver bullet solution to ease these burdens, caregivers should take breaks whenever needed and possible, ask for help from other relatives and community members, and take advantage of resources, such as those provided by Council on Aging.