COVID-19 Resources and Information
Last Updated: Tuesday, December 15, 2020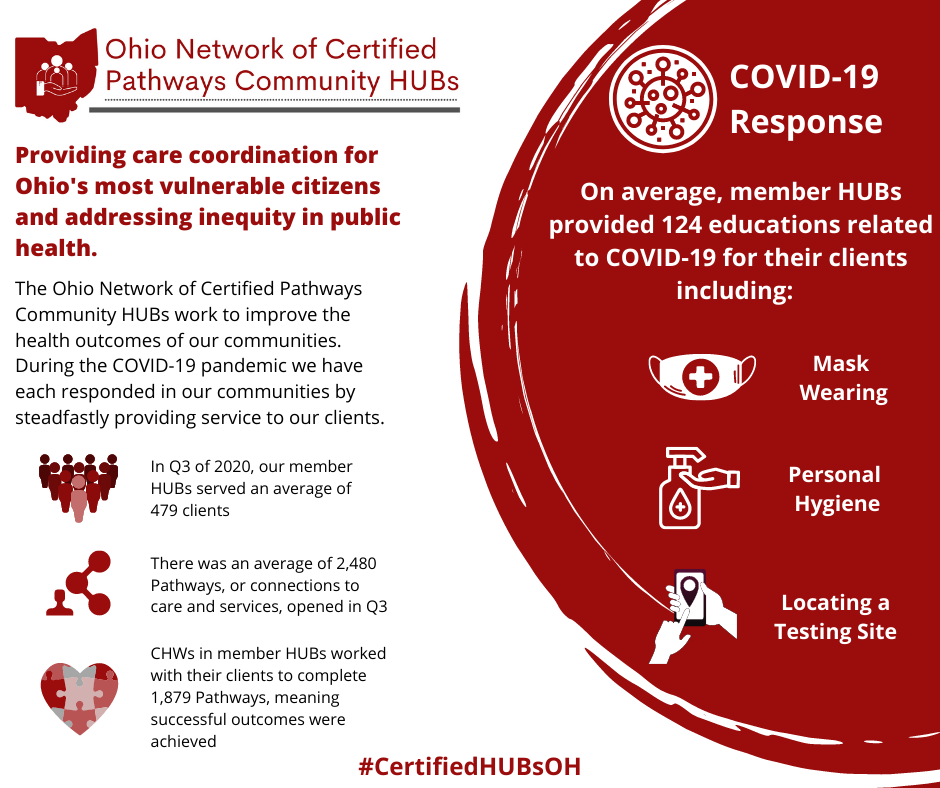 Test and Protect aims to mitigate COVID-19 through rapid, efficient testing in those areas and organizations within Hamilton County that need it the most. Click here for testing sites.
Cincinnatians will be required to wear face coverings in public spaces to reduce the spread of COVID-19. Click here to know more about the mask requirement.
Lactation Support
For local lactation support during COVID-19, visit Lactation Support during the Pandemic
Local Resource List
For a wide range of resources available locally, visit Local Resource List.
Health Insurance
If you have lost work or otherwise need health insurance, see if you are eligible for Open Enrollment for a CAC Marketplace plan or Medicaid at Find Your Health Insurance Plan.
Emergency Dental Services
Interact for Health is pleased to provide funding so that three Cincinnati Health Department dental centers can remain open to handle urgent oral health needs. Patients must call any of the locations first for an evaluation by telephone or video call.
• Bobbie Sterne Health Center, Over-the-Rhine. 513-352-2927.
• Crest Smile Shoppe, Avondale. 513-352-4072.
• Millvale at Hopple Street Health Center, Millvale. 513-352-3196.
An on-call dental provider can be reached after-hours at 1-866-485-0271.
Mental Health Crises
The Talbert House 281-CARE crisis hotline will be available 24/7 if you or a loved one need assistance: 513-281-2273 or text "talbert" to 839863
Unemployment Benefits
If you are affected financially from the mandatory closing of your place of work, employment benefits have been expanded. Apply for unemployment benefits ASAP at unemployment.ohio.gov/. Call 877-644-6562 only if you do not have internet access. For detailed guidance view or download How-to-Help-Unemployment-Claimants.pdf
No-Cost Legal and Long-Term Care Advocacy
Have a legal or long-term care issue? If you are 60 or older and live in Ohio, you are eligible for Pro Seniors' no-cost legal and long-term care services. Call (800) 488-6070 to schedule an appointment. Details and resources are also at www.proseniors.org
Hamilton County Jobs and Family Services PRC
Residents of Hamilton County can potentially access funds through a public program called PRC (Prevention, Retention and Contingency).
Eligibility requirements for PRC are:
At least 18 years old
Must have at least 1 dependent (minor child)
Must meet income requirements of 200% of Federal Poverty Guideline
200% of Federal Poverty Level
| | |
| --- | --- |
| Family Size | Income Limit |
| 1 | 2,082 |
| 2 | 2,819 |
| 3 | 3,555 |
| 4 | 4,292 |
Based on Gross Monthly Income
Eligible families can apply on line via the link below. Simply follow the instructions on the PRC link below. Be sure to upload required documents to avoid delay in processing.
www.hcjfs.org/services/job-placement/prevention-retention-and-contingency-funds/
Coronavirus Testing
Mildly ill patients are encouraged to stay home to self-isolate and contact their healthcare provider by phone for guidance about clinical management. Patients who have severe symptoms, such as difficulty breathing, should seek care immediately. Older patients and individuals who have underlying medical conditions or are immunocompromised should contact their physician early in the course of even mild illness.
If you have symptoms and suspect you have been exposed:
(1) If you have a primary care doctor or pediatrician, CALL that doctor for advice. Do not walk into the office. CALL.
(2) If you don't have a primary care doctor, CALL the Ohio Department of Health at 1-833-427-5634. They will tell you what to do next.
UC Health has a Drive-thru testing site, but you must have an appointment. You can call 513-41-Virus to get an appointment after getting a note from your doctor.
Internet Access
Charter Communications (Spectrum) is providing free broadband and wi-fi access for 60 days to households in need with K-12 or college students. To enroll call 1-844-488-8395.
Evictions
Hamilton County Clerk of Courts (513) 946-5700
Eviction proceedings are not being held right now. If eviction has been filed and a court date has already been set, it is being pushed out 45 days from the original court date. If the court date has not been set, the tentative dates will be around May 11th and after.
Electric and Gas Utilities
The Ohio Public Utilities Commission is extending its utility reconnect order to ensure that electric and natural gas utilities will not be discontinued during this emergency. For Southwest Ohio, please contact Duke Energy for more information.
Health Gap
COVID19COMMUNITYRESOURCES.COM/
The Center for Closing the Health Gap, Urban League of Greater Southwestern Ohio , The African-American Chamber of Greater Cincinnati-Northern Kentucky, and National Association for the Advancement of Colored People are collaborating to provide COVID-19 information from organizations serving the African American underserved and marginalized populations in the Cincinnati region.
World Health Organization
www.who.int/emergencies/diseases/novel-coronavirus-2019
Centers for Disease Control and Prevention
Obtener la última información
www.cdc.gov/coronavirus/2019-ncov/index-sp.html
Ohio Department of Health
City of Cincinnati Health Department
www.cincinnati-oh.gov/health/covid-19/
National Alliance on Mental Illness
NAMI COVID-19 Resource Guide (PDF to view or download)
Freestore Foodbank
freestorefoodbank.org/coronavirus-covid-19-updates-and-information/
Community Action Agency Updates
www.cincy-caa.org/covid-19.html
Cincinnati Metropolitan Housing Authority
National Institute for Children's Health Quality
www.nichq.org/news-item/coronavirus-disease-2019-covid-19-information-childrens-health-advocates
CDC recommendations on pregnancy, infant health and breastfeeding
Consumer Reports
Multilingual Resources
CDC Flyers
Handouts in English, Spanish and Chinese
World Health Organization
Multiple types of information in 6 languages
English, Spanish, French, Russian, simplified Chinese and Arabic
Bhutanese Community of Central Ohio
Follow on social media (Facebook) to get updates
Twin City PBS
Coronavirus: An Almanac Special
Information in Somali, Hmong and Spanish
Includes Somali videos
MN Department of Health
Somali, Spanish, Hmong under News and Announcements
California Endowment
Information in Spanish, Chinese and Hmong
Our Lady of Guadalupe – Catholic Social Services
Good resources for Spanish speakers. See Facebook for updates
Riverview International Center
Riverviewinternationalcenter.org
Sign up for email updates for needs in their community
King County
COVID-19 Public Health Recommendations
Fact sheet in 11 languages including Somali